As Cybersecurity Awareness Month comes to an end, that doesn't mean the conversation has to. Cybersecurity should remain an ongoing conversation for all people leaders, especially for those in the growing digital working world. Not only do cyberattacks pose a risk to your people, but they also pose an enormous risk to your business and your clients.  In our HR practice, we've seen one too many HR nightmares relating to cybersecurity – from employees being tricked with suspicious links to purchasing thousands of dollars of gift cards for "the boss". This normally leads to an expensive recovery, it could also end in a lawsuit and/or cost your business its reputation.
Recognizing this is a constant threat, we asked  "How can we do our part as people leaders to help protect businesses from cyberattacks?"
Communication and education (trainings).
Start by gathering the pulse of your team. Here are a few of the questions that are included in our tech company, WorkTok's "CyberTok" template:
How confident are you that you can detect a fraudulent email? Do you know what to look for?
Do you use strong passwords on all devices, business and personal?
Do you have Multi-Factor Authentication enabled (if offered) on every online account portal you use?
When links are included in emails, do you know how to verify if the link is legitimate?
Once you gain a pulse on your current state, you are now able to figure out what trainings would actually be beneficial for your teams.
Let's not forget about your new hires! Do you have training in your onboarding process that relates to cybersecurity?
These hackers are smart, they target new employees. Why? It's psychological. A lot of new hires may not have that trust or familiarity with their leadership or systems. Which makes new employees, easy targets.
In short, all individuals that have access to your systems should be trained to spot and avoid cybersecurity threats. At the very least, your employees working with high-risk systems, data and account information should have annual trainings and annual Cyber Audits by a professional. Breaches are devastatingly expensive, simple steps could save you time, money, and reputation.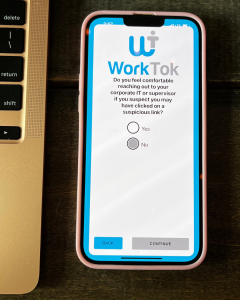 Leath HR Group partnered with WorkTok, Atlantic Computer Services, and PS Solutions to create CyberTok. CyberTok helps managers identi
fy their employees' knowledge base of cybersecurity to help identify what trainings are needed to protect business assets. Use CyberTok for free to see how at-risk your employees and systems are to cyberattacks. Get started within 5 minutes, here.
At Leath HR Group, we help businesses across industries from manufacturing, fintech, healthcare, and academia.  We help them develop cutting-edge people strategies that ultimately attract and retain the talent they need for growth and success. With over 5 years of business, decades of experience under our belts, and numerous awards, we are confident our team at Leath HR Group can help you with your people processes!
Ready to level up your HR strategies? Contact our team today.
contact@leathhrgroup.com
www.leathhrgroup.com
@LeathHR
Subscribe to HR Nightmares, our workplace podcast for more free HR advice. Available on YouTube, Spotify, Apple Podcasts + more!