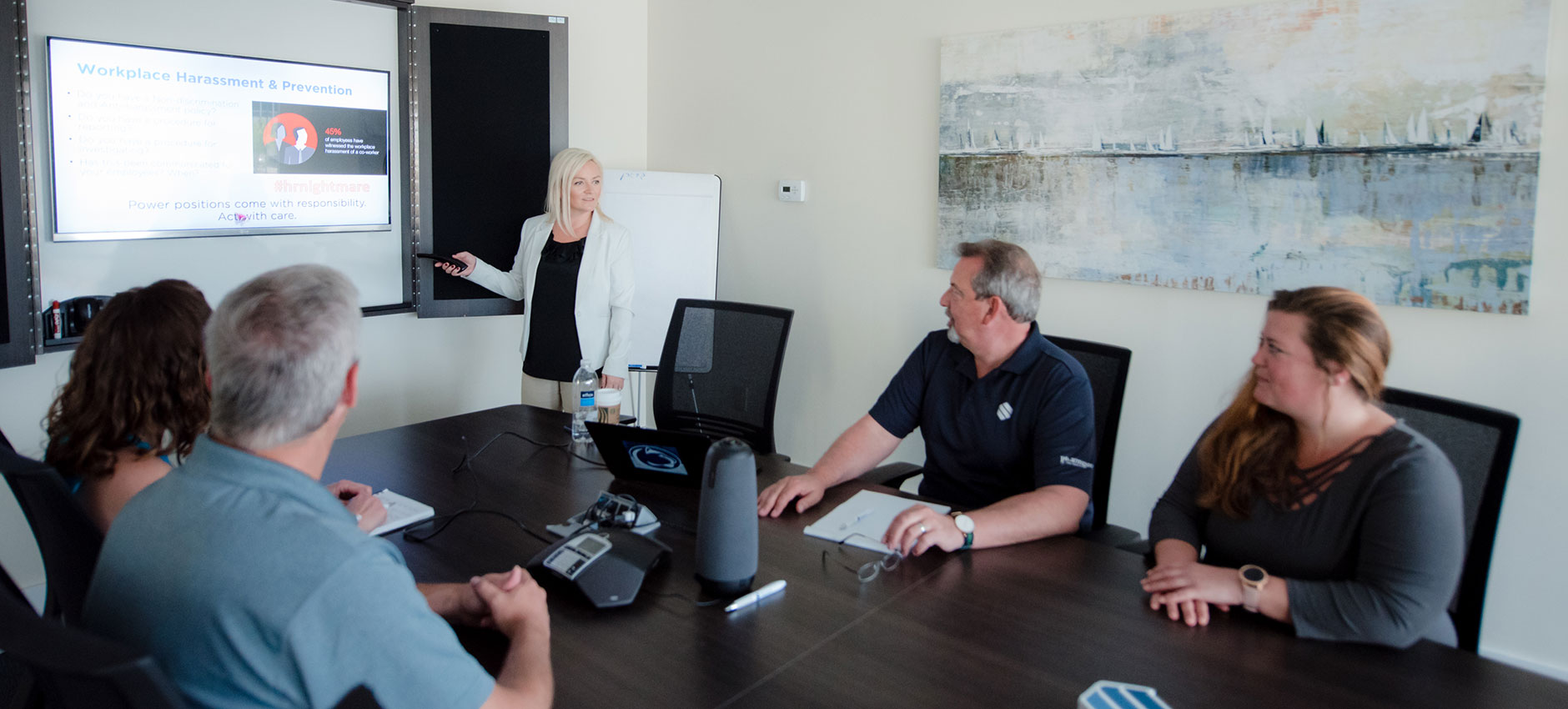 Professional Development – Helping your people develop, thrive, and cultivate deep relationships for a growing business.
Your company culture is unique and so are our team's training strategies. Our HR experts customize development training sessions to fit the needs of your employees, supervisors, managers, and executive leadership teams. If you have a topic you do not see below, reach out we have the ability to design a new session for you!
All development trainings can be facilitated in person or virtually.
1-Hour, Half-day, Full-day
Small Business • Corporate Training • Lunch-N-Learns • Private Sessions • Public Workshops
Team Building
Building trust and shifting to a more collaborative culture
Improve ability to provide feedback to one another
Improving problem-solving and decision-making skills
Sexual Harassment Prevention
Catered to state legislation
Customized for employees, managers, and board members
What is sexual harassment
How to document sexual misconduct
Employees' rights and responsibilities
How to prevent sexual misconduct
DiSC Training
Promote increased team communication
Facilitate DiSC questionnaire
HR expert to coach results with employees and leaders
Motivate and Engage Employees
What keeps your employees motivated?
Tips and tricks to cater to your employees' needs
Effective Interviewing Techniques 
The importance of the candidate experience, including respecting candidates' time
The types of questions to ask, such as open-ended and behavioral-based questions
What should and shouldn't be asked during the interview process
Other Customized Trainings:
Supervising Supervisors
Staff to Supervisor: Transition after Promotion 
Dealing with Difficult Employees 
Addressing Sensitive Issues with Employees
Effective Interviewing Techniques
HR Six-Part Mini-Series 
Managing Employee Conflict
Leading Virtual Teams
Managing Employee Burnout
Leading Across Cultures & Generations
 Effective Delegation Skills
Balancing Priorities: How to Successfully Manage Tasks, Deadlines, and Expectations
Difficult Conversations in the Workplace 
Learn new strategies for handling difficult conversations effectively
Know how to structure to nip it in the bud respectfully and effectively
Sensitivity training and working through contentious issues
Win the Talent War 
How to attract the perfect talent
Strategies to make your recruiting process more efficient
Employer Branding
Discover your Employer's Value Proposition (EVP)
Ways to showcase your culture digitally on a budget
Unlock the social media advantages for your company
Employee Workplace Investigations 
Hostile Work Environment
Harassment
Sexual Harassment
Discrimination (sex, age, race, pregnancy)
Code of Conduct Violations
Other Customized Trainings:
Marketing for Recruiting Talent
Managing Employees
Handling Accommodations 
EEO Trainings
HR Management and Planning Strategies 
Upcoming Development Trainings